Online Peer Review Sessions
Online Peer Review Sessions
Through online peer review moderated by a coach, rowers learn from each other under the guidance from the coach. It is a great way to learn and to make international rowing friends!
Rowing Events offers both private and public peer review sessions. The private sessions will remain private and their recordings must not be shared outside the group by its members without everyone's consent. The public sessions are offered at a discounted rate and may be published by Rowing Events on e.g. Youtube.
The online peer review offered by Rowing Events is done through Microsoft Teams and works as follows:
Contact us and let us know your experience level and the topics that concern you most. Also tell us whether you would like a session together with other rowers that have similar experience and preferred topics or rather by yourself with the just the coach.
We will inform you of the possibilities and schedules we can offer, including the possibility to subscribe to multiple sessions with a couple of weeks in between so you can work on the items discussed and get further feedback in the next session.
Additionally, we will provide you with a personal workspace in our community web portal where you can store the vidoes of yourself rowing to share and get feedback on. It is also the place where you can control who can see your video, and to set your preferences such as time zone, preferred time slots and dates for the sessions.
We will ask you to upload an initial video, so our coaches can review and propose a group assignment based on your indications and on what they observe in the video. We try to accomodate every rower with a group that has similar topics to cover.
After we have offered you your group assignment, we request that you approve of sharing your videos within your group. Only after your aproval, your video will be shared within the group. The sharing can be subsequently controlled and stopped from your personal workspace in our community portal.
After the group has been formed, the sessions will be scheduled, seeking to accomodate everyone's preferences.
A week before a session starts, your assignment is due: the video of yourself rowing that will be reviewed during the session.
Specification of the Video
The video must have a minimal resolution of 720p (1280×720 HD ready) and ideally is taken from a 90 degree angle from the pin (oarlock). An additional video from directly behind the rower would also be great.
The video should contain at least one sequence with more than five consecutive strokes, but it is recommended to record the following exercises to be reviewed:
Low rate 16-18 strokes per minute (spm), steady rowing, moderate pressure, 10 strokes

Same pressure with pause at body over every stroke for 5 strokes

Same pressure with pause at body over every 3 strokes for 3 sets of 9 strokes

Moderate rate 20-24spm steady rowing, moderate to firm pressure 10-15 strokes

Higher rate 26+ steady rowing, firm to strong pressure, 10-20 strokes
Recommendation
To facilitate coaching that is tailored to you, ensure you check and document the rigging configuration of your sculling shell used in the video:
Span
Oar length (inboard / outboard)
Swivel height
Your length & weight
Weight class of the shell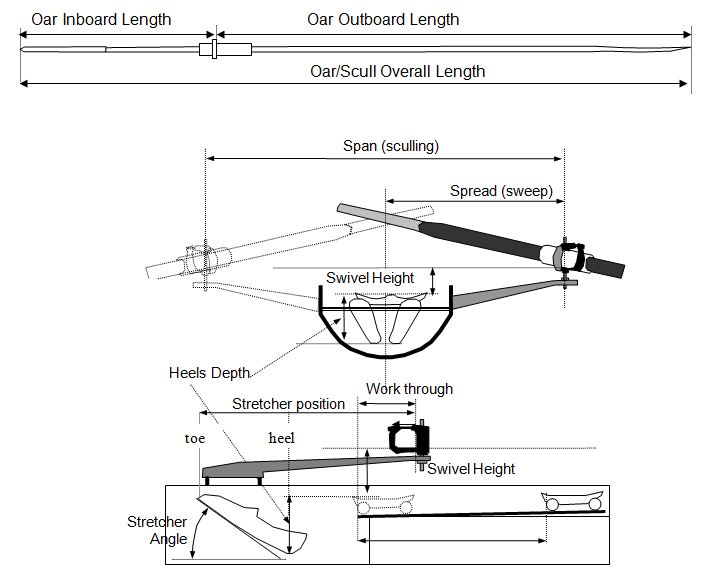 See https://www.rowperfect.co.uk/fisa-rigging-survey/
Example Video
These video examples are suitable for online peer review & coaching.
JRC Practice - DR Single
Video of rowing at the Willem-Alexander Baan.